Voices of Calvary
On October 21, 2014, Voices of Calvary Choir performed in Southern California, and Fifthook Media was there to record the live performance in CD quality audio.

The Voices of Calvary Choir has an exciting upbeat style that is guaranteed to make you want to get up and move to their music.

This spiritually infused choir originated in Stanton, California, and has ministered to many churches and congregations. Their enthusiasm for gospel music can be heard throughout their performances along with a spiritual anointing felt in every song.

This CD was recorded "LIVE" at a Southern California concert, and captures the energy of that performance. All proceeds from the sale of this CD go to assist this choir in their ministry. If purchasing this CD from the CreateSpace.com/2266681 website, please use the discount code 2QS77YU5 at checkout for a 10% discount. It is also available on Amazon.

Below are two sample songs from the CD.

---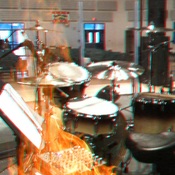 Killsin
The musical group "Killsin" was recorded and produced by Fifthook Media. Songs are available as downloadable singles. They can also be purchased from iTunes and
CDBaby
. However, below some can be heard.